Kathe and Roseanne and I are taking Christian to a Cubs game this afternoon....he is spending 10 days with his mother in Mokena and we all got together with Pat and Mary Jo Wed evening at Palmer Place for a burger.
Brett arrived in Chicago last night and the "utes" all went to see Dave Mathews Band in Tinley Park for an out door concert....Kevin, were you in the Mix at all somewhere? How are you Kev? Where are you? Brett returns in about 10 days to the East Coast to prepare for moving to Italy with his Band of Brothers.
Nettie contacted me and is joining us for the wedding in Clinton....so all will be there except Ed and Linda...as far as family and MJ and Pat are ready for this big event...they are settling into a sort of routine of living in Clinton and working in Chicago and MJ just started her teaching Wednesday...she said it is very different and she has some getting used to it to do!

Kathe ran out for breakfast and I hope to at least hit the bike for a few minutes so gonna run...thanks for all the contributions and we shall hopefully keep our family's requested prayers in our hearts so hop on the Blog Train and let us know how each of you are doing.Love for now

DO NOT FORGET OUR BIRTHDAY BOY THOMAS IN SEPTEMBER I BELIEVE THE 28TH RIGHT TOM?????LOVE AND HAPPY BIRTHDAY DEAR SWEET BRO OF MINE
OKAY, SO YOU HAD TO WAIT for me to get back on here to get some juices flowing?
I am very excited as I get to be the lucky aunt that picks Christian up from the airport tomorrow and drive him down to Mokena to see his mother!

He has a week in Chicago and I am for one, very excited! Christian has been officially released from the Marines however, he has to deal with the real possibility of being pulled back as a reserve for a fourth tour...pray just pray for him that he does not have to do that. It looks like Kathe will be over at my house this weekend and ( this is for Ed), I now own a new beautiful Roadtrip Grille by Coleman...yes bright red and quite spunky!!!!! So we will be sharing time with Roseanne and Christian and next weekend we are at a Cubs Game with he and Brett who is also coming into Chicago next weekend.

I am drinking that wonderful MIchigan red wine tonight and looking forward to a good sleep tonight after a stress-filled week of work.

I did not hear much about the family's Labor Day celebrations....so where are you all???
Just a quick update on the naughty partiers that took over my house! Fred was the instigator with all the redwine......SWEET! Ed brought and cooked steaks as big as your head on my fantastic DuCANE GRILL.....the ladies made sure we had food in the house and Thursday night saw Emily and Art and Kathe join in and it was super fun and no political murders!! Ha ha ha......Ed and Linda did their wedding thing while Fred and Beth and I headed downtown to see Millenium Park and then we stuff ed ourselves that evening near by house with cheeseburgers! Fred made homemade lemonade (sorry we never got to the popcorn) and Sunday was Mass and then they had to leave! Ed and Linda hung out Sunday pm before their flight home on Sunday eve!

I am hoping to see Roseanne this weekend as we did not touch base yet and her good news of Christian's visit may be fodder for the blog by her so I will let her share those plans.
Kathe is staying at my home this week as she goes into her second week of teaching in Plainfield and next week she will be back out in Naperville with her friend Sheila. Alicia dropped by last night and so it goes!
What are ya'll doing over Labor Weekend??? Hope aboard the Blog train and let us all know.
Thanks for all the fun and food and laughter you guys.....too bad my family plied me with red wine to the point of sin and debauchery......................Bye for now and love to all!
PS Brett comes into Chicago in Sept also....Kathe,,,get on and tell all. XX Love
The recent comments have done a great job of summing up our last few weeks of Family Time!! Mike, those pics you sent along were excellent by the way and thanks!
Mary Jo begins her teaching in Minooka area next week and Kathe starts tomorrow in Plainfield. Several of us broads drove up to Madison yesterday to Marianne's beautiful home where she held a Bridal Shower for Karen. Kathe, Roseanne, moi, Julie, Emily, Karen and Marianne and of course Mary Jo were in attendance where we ate an incredible meal, had a wonderful sampling of the upcoming wedding cake, played some very fun cames thanks to Em, and had a few laughs. I learned just how far Madison is from my home!!

Fred and Beth head this way as do Ed and Linda. They are holding a steak BBQ Thur eve and then FRed and Beth and I are spending some Chicago time together as Ed and Linda go to a wedding. em and Kathe said they may stop by and I am hoping Roseanne can join us at some point also.
First things First...Patty Streicher (who by the way is doing well) called tonight and wanted me to put a notice on the blog that Margaret Brooks is in her final hours. She will call me as soon as she knows what exactly is going on. Mary Alice is flying in tonight at midnight from Napa Valley and they are driving to Ottumwa in the morning. Tentatively a funeral is plannned for this Sat????? Patty asked that we keep her in our prayers and she really wanted our family to know of the latest news...Anyone wanting to donate a memorial please let me know as we go into final days.....Thanks PSS Patty just called today Wednesday August 9 to tell me Aunt Margaret passed away at 4 AM this morning. The funeral is 10 Am in Ottumwa. Please call me if any of you want her phone number in Ottumwa for details. Anyone else want to send anything let me know by tonight as I leave for out of town tomorrow morning and will be at Pat and Mary Jo's Thurs eve and Fri eve. GOD BLESS

As for our Minnesota Reunion..was that not most fantastic or what? Cathy and Guy put on quite a hospitable reunion and celebration...with the help of Mary and Ed and their wonderful inspiring family. Besides an outdoor BBQ to die for....filet mignon to our individual specifications and a gorgeous Minnesota summer evening and weekend....a moving evening at St. Richard Church with Cathy and Guy's celebratory Mass and Prime Rib and Chicken Meal and great presentation.....and dancing and well....Susan...what wonderful wines!!! Then Sunday morning at Mary and Ed's and Sues new duplex with a yummy sentimental around the Brunch Table kind of Lennon pig out (I think there was actually a Pig Out Pig Roast on Saturday that I did not go to) and those who were not there were ROASTED!!! Sorry Fred and Ed and Pat....I have pics which I will try to get on Shutterfly this week or weekend. Sue and Mary and Ed's Duplex is very beautiful and just a joy to be in!! thank you thank you thank you for a special Lennon Reunion Time. All of us will rehash this in October at the Wedding.....
I have not laughed this much in weeks..so thanks to Kathe and Roseanne for making me laugh so much....Roseanne and I had to share a double bed, well that is going into TMI....Love to you all and come on...lets' get your comments about that fantastic reunion..
Well, let me bore you all with my upcoming weekend and family stuff:
Auntie Patty Streicher had her kidney removed this week due to a tumor found on the top of it. I went to see her in the hospital where she was in some pain but planning to be out by Friday (today) I just called and no one was in. Her family rallied around her and she was so pleased. She said she felt all their prayers really helping her. I told her we would keep her in our prayers as she recovers. I am proud to say I had three huge pink peonies from my own garden to take there and she loved them. Aren't I just a green thumb!!!
Who knew??? Roseanne planted some day lillies and rhubarb from mom's garden a few years ago when she stayed here and they are doing quite well, Mary, the hostas just did not but we think the lawn mower man cut them down.
Kathe finally got HIGH SPEED at her house and was kind enough to book our hotel in Minneapolis for her and Roseanne and I....thanks Kathe and also Mary, thank you Kathy for getting back to me..So Jo and Bob and Mike and Julie, we are all in the same area for some retail therapy at the Mall.....

Roseanne flies in tonight from New York City I hope she is not too tired to grab a bite to eat with me. Her car sits here for a time while she is gone and she can be extra tired when she arrives back but we shall see...

My deck is full of geraniums and I have had several sunny peaceful hours out there by now...my fav time is in the evening when I get in from work....
Kevin, soo good to hear of your adventures...keep us posted. Mary Jo and Julie and Bev are headed this way next weekend for the play theWICKED..everyone who sees it says it is just fab...Okay I have rattled on now...join in the foray Lennons!!!! Love p
Hey everyone, this is Kevin. It's been three years now since Grandma died, and her and Grandpa have been on my mind a lot lately as I get ready for life after college. I suppose as I try to decide where to call "home" in a few months, I feel a longing for the place that will always be home for me. I wrote this for Grandma.

i was eating dinner tonight at Wendy's, and there was an older lady working the register. She was enthusiastically talking politics with the customer in front of me, letting him know that she thought this politician or the other was "insightful" and "articulate" and that it would be worth the customer's time to look him up. "Oh, but I'm not a Democrat or a Republican," she told him, "not gonna label me! Here's your fries." She made me think about my Grandma.

Grandma was a fiery liberal, carrying a burning ember for the half-century old cause of FDR and the New Deal. At any point in her life, she would certainly have voted for an inanimate block of granite (no Al Gore jokes, please) if said block was running on the Democratic ticket. Living with her for five months in late 2002, I was constantly reading The Nation or The New Republic, or sitting in on her marathon C-SPAN sessions. By the time I was ready to move out and transfer to the University of Iowa, I had my heart set on a political science degree. She had that way of rubbing off on me.

At the same time, though, for years I'd been pushing her further and further away. The last few years of her life, whenever she'd get me alone, she'd start to reminisce: "Oh Kevin, remember when Dad (my Grandpa) and I would come pick you boys up from school, take you out for a sandwich at Hardee's? Every week, we'd go, every week. Oh, Kevin, those were some of the happiest days of my life. Happiest days of my life." I hated listening to this, because so often she would follow it up with "... tell me, what happened to that sweet little boy I used to love so much?" Her catholic guilt-mongering was a bit too much to handle for an overly-sensitive kid. I eventually began to just tune her out. Yeah, I was a little shit.

Of course, now I can see. That's just the way she was. Thinking back, it blows me away: she loved me more than I could possibly appreciate. But why? I'd never done anything to earn it. I was just a kid. She'd had eleven of them, and I was just one of a whole litter of grandkids. She must have known she likely wouldn't see me reach an age where I could fully appreciate how special a loving family really is. If you have a good family like I did, you tend to think, 'that's just grandma, that's just the way grandma's are, it's what they do'. They come to your school plays. They take care of you when you're sick. They feed you and clothe you and pray with you every night before bedtime. But then somewhere along the way we all grow up and realize that loving people, even family, doesn't come hand-in-hand with a title like "Dad" or "Grandma". It's hard work.

I thought about all this over my meal, and thought back to that time in my life. Thought about Grandma always buying me a new toy when we went shopping, how she took me to the bookstore every week to fuel my newfound love of reading, the way her home was always "home", no matter where I lived. And Hardee's. From Kindergarten thru 3rd grade, every Friday, come rain or snow, my 80 year old grandparents would be there waiting for me right after school. After 3rd grade, my Dad got custody of me and my brother, and Maquoketa was a little too far for them. No more Fridays. Before today, I had never thought about how that move, which was such a huge part of my childhood, affected more lives than just mine. Did she still go to Hardee's every Friday without me? Was it the same?

Grandma died shortly after Easter, 2003. It breaks my heart that she won't be there to see me graduate college; that she'll never get to meet the man that her "sweet little boy" has grown up to be. But if this little boy could, the first thing he'd do is wrap his arms around her, squeeze her tight, and say, "Grandma, those were some of the best days of my life, too."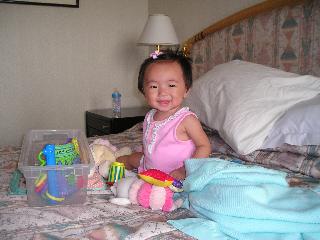 Hello everyone,

We are glad to be home from China. We sure brought home the prize. For all the details, check our our blog http://chinatrip2michelle.blogeasy.com. Everyone is doing fine, we are still working on the time change. Gracie loves her new sister and that is a good thing!

Ann

This is a test This picture was taken at Palisades Park the very last time we all walked there. Love, m